Liam's at Nauset Beach was still standing yesterday when we took a ride down to Nauset Beach. They were putting up more fences around it so people would not trespass or walk on the dunes.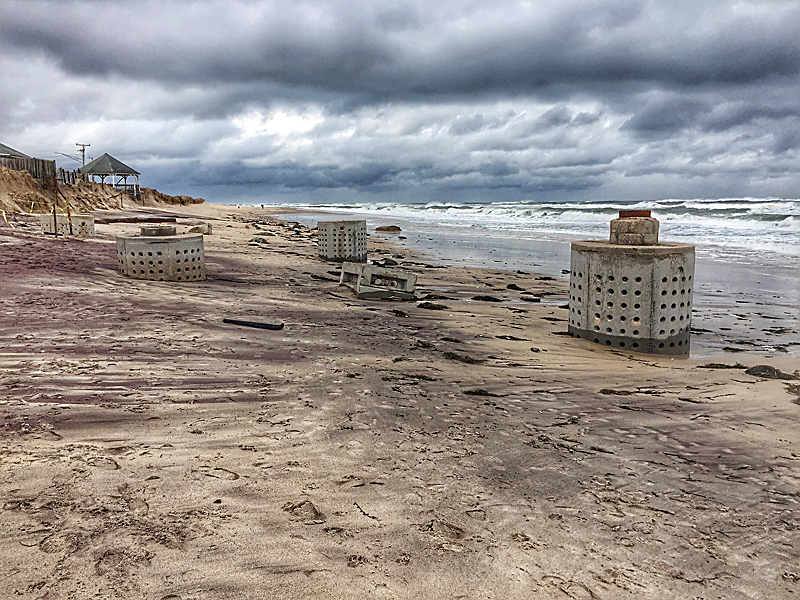 We drove to the end of the parking lot and took the little trail to the beach to see what it looked like. There are virtually no dunes left, and very little beach.
I walked down to the front of Liam's and took a couple of photographs. The first one is looking up at Liam's from the beach. The 2nd one is of the beach in front of Liam's with all of the exposed cement structures which are in excess of 6 feet high. Someone said they were part of the septic system for the bathroom, but I have no idea. You can see the gazebo in the distance. That will have to be moved ASAP, I would think, as it is almost in the water.
We heard they would be taking Liam's down today. We'll take a ride later and see what is going on. 🙁
PS We just came back from Liam's and visiting with the owner, Jon and his son, Liam. They are focusing on all of the "happy memories"from years past. I asked about the cement structures and they said they were from a 1940s septic system that is now defunct and that the town did not know they were buried there in the sand. I guess everyone was surprised to see them emerge from the deep sands!
PPS They removed the gazebo.